Have you ever considered writing poetry for children? It's fun and interesting; but don't be fooled into thinking it's easy because it's for kids. Writing poetry for children requires an understanding of what kids like and a skill in delivering it. So if you'd interested in writing poetry for children, tap into what kids like and attend to some guidelines for this unique genre of creative writing.
Let's start with what children like in poems. There are basically three elements to keep in mind: brevity, rhyme, and humor or surprise. For brevity, consider how some favorite children's poems—like "Who Has Seen the Wind" by Christina Rossetti—have less than 50 words. Yet, it's not exactly the word count that matters. What matters is getting right to the point. Children are busy people with little tolerance for just waiting around for the story or action to begin.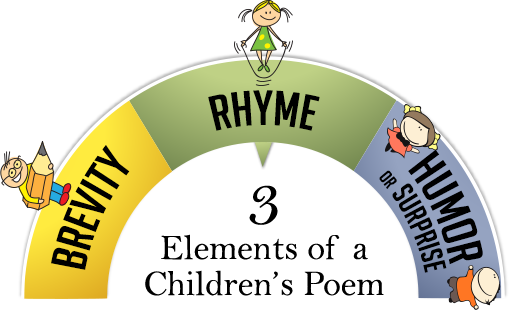 Children also enjoy rhyme, but they'll know when it's overdone or contrived. Rhyme should arise naturally or spontaneously in the poem. Rossetti in "Who Has Seen the Wind" provides a good example of rhyme done well. She keeps it simple by rhyming "you" with "through" in the first stanza and "I" with "by" in the second stanza. That's it—that's all that's needed to make the rhyming aspect of this poem pleasing to the listener.
We find a similar rhyming pattern—with some variation—in "Keep a Poem in Your Pocket" by Beatrice Schenk de Regniers. Here, the only rhyming words are "head" and "bed," but they're used twice—in the first stanza and then again in the third stanza. Repeating the word "you" in the middle stanza adds an interesting variation.

Humor or surprise is the third element that children enjoy in poetry. While neither "Who Has Seen the Wind" nor "Keep a Poem in Your Pocket" include humor, many children's poems do. Consider "Daddy Fell into the Pond."
Children always giggle when they hear this poem. The unexpected happens and everyone—including the gardener and the ducks—take notice.
Humor or surprise can appear as something unpredictable or absurd. At times, we call this "silly." Mary Ann Hoberman—the Children's Poet Laureate in 2008—is one poet who really capitalizes on silliness. Her poems include stories about "A Llama Who Had No Pajama" and "The Seven Silly Eaters."
In addition to brevity, humor, and rhyme, you can also use alliteration and repetition to make a poem appealing to children. We find both of these elements in "Keep a Poem in Your Pocket." In addition to alliteration in the title, it also appears in the second stanza with the words "a dozen dreams to dance to you." Who could resist being drawn to the beauty of these words?
The repetition in "Keep a Poem in Your Pocket" is also quite effective. It not only restates the theme of the poem, but also relates to what is repetitious in the lives of children—that of going to bed every night.
Repetition need not be boring. At times, the exact words and the order of the words can be repeated, as in "At night when you're in bed." Other times, repetition might be used with slight variations, as Rossetti does in "Who Has Seen the Wind."
Alliteration, rhyme, and repetition are elements that can dress up a poem; but great poems also need interesting content. For content, there are two rules to follow: (1) Write about what is of interest to children; and (2) Include rich imagery.
Rossetti's poem piques children's curiosity by asking an intriguing question about the wind—a question children have probably never considered. The imagery used in this poem also gets children's attention: The leaves are trembling and trees are bowing down their heads.
An excellent way to find content for writing children's poems is to draw from your own childhood experiences and interests. Think about what made you laugh, what aroused your curiosity, what you liked to do, what scared you, where you played, and what you loved or cared deeply about.
For ideas about both content and form, it's a good idea to study children's poems. Anthologies of children's poetry are especially useful in that they usually include a wide variety of favorite poems. Caroline Kennedy's collection, A Family of Poems, groups poems into seven different categories, including a "That's So Silly!" and a "Bedtime" category. Anthologies highly recommended by the Children's Literature Network include Knock at a Star: A Child's Introduction to Poetry by X. J. Kennedy and Dorothy M. Kennedy, Talking to the Sun edited by Kenneth Koch and Kate Farrell, and The Random House Book of Poetry for Children by Jack Prelutsky.
Finally, after you've written your poems, you'll want to submit them for publication. Several excellent children's magazines accept poetry submissions. These include Cricket, Spider, Ladybug, and others. Each of these magazines targets a specific age group. You'll need to keep this in mind as you submit your work.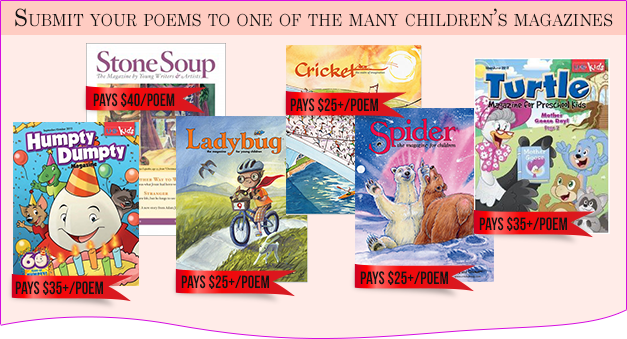 Before you submit, however, you need to get that poem written. It's also a good idea to get it reviewed. Children can be excellent reviewers of poems written specifically for them. So write a poem, share it with a child or two, and ask them what they liked or didn't like about your poem. Their feedback can be invaluable.
A final suggestion—don't walk around with empty pockets. You can keep a poem in your pocket, but you can also store up ideas for poems. If you want to write poetry for children, spend time around children, watch what they do and say, and start taking notes. Then, use these ideas, attend to what children like in poetry, and start the writing process.
About the author:
Dr. Ruth Wilson works as an educational consultant and curriculum writer, with special expertise in the areas of early childhood environmental education and the development of language and literacy. Dr. Wilson's career includes working as a classroom teacher in both regular and special education settings and as a teacher educator for over ten years at Bowling Green State University in Ohio.
Dr. Wilson's published books include Nature and Young Children, Fostering a Sense of Wonder during the Early Childhood Years, and Special Educational Needs in the Early Years. Dr. Wilson's articles have appeared in numerous publications including Environmental Education Research Journal, Green Teacher, Early Childhood News, Exchange, and American Forests. Dr. Wilson lives and works in Albuquerque, NM. She can be contacted at [email protected].
Also by Ruth Wilson:
1. How to Use the Power of Poetry to Enhance Your Writing and Life (article)
2. Writing Your Ecological Autobiography (article)
3. Journaling in the Natural World (article)